Rotherham inquiry: 12 charged with child abuse offences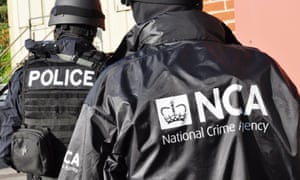 Twelve men from the Rotherham area are due to appear in court charged with 44 child sexual abuse offences, police have said.
The men, aged between 33 and 38, were arrested as part of the National Crime Agency's Operation Stovewood, an investigation into non-familial child sexual exploitation and abuse in Rotherham, South Yorkshire, between 1997 and 2013.
The charges relate to the alleged sexual abuse of eight girls under the age of 16 between 1998 and 2003. The men will appear at Sheffield magistrates court on 24 October.
The senior investigating officer, Paul Williamson, said a total of 21 men had now been charged with more than 94 child sexual abuse offences as part of Operation Stovewood, and he expected that number to increase as more complainants came forward.
He said officers were investigating more than 80 suspects and were engaging with 235 complainants with the support of partner agencies.
"Our focus is to bring lasting and worthwhile benefits for victims, helping to build better futures," he said. "We will listen to their accounts and investigate allegations made to identify and bring offenders to justice. This focus has not wavered and we, along with our partners, will persist in our efforts to make Rotherham a hostile environment for child sex offenders."
The 12 men are: Amjal Rafiq, 38; Nabeel Kurshid, 34; Iqlak Yousaf, 33; Mohammed Imran Ali Akhtar, 36; Tanweer Ali, 36; Aftab Hussain, 38; Abid Saddiq, 36; Sharaz Hussain, 33; and Salah Ahmed El-Hakam, 38, who have been charged with a total of 39 offences, and Mohammed Ashan, 33; Masaeud Malik, 33; and Waseem Khaliq, 33.
The NCA has described Operation Stovewood as "the largest ever investigation into non-recent child sexual exploitation undertaken by law enforcement", and says the complexity of its investigation is unparalleled.
A report in the Times in 2012 claimed that gang rape and trafficking were widespread in Rotherham. A subsequent investigation by a former chief inspector of social work, Prof Alexis Jay, concluded in 2014 that failures of political and police leadership contributed to the sexual exploitation of 1,400 children in the town over 16 years